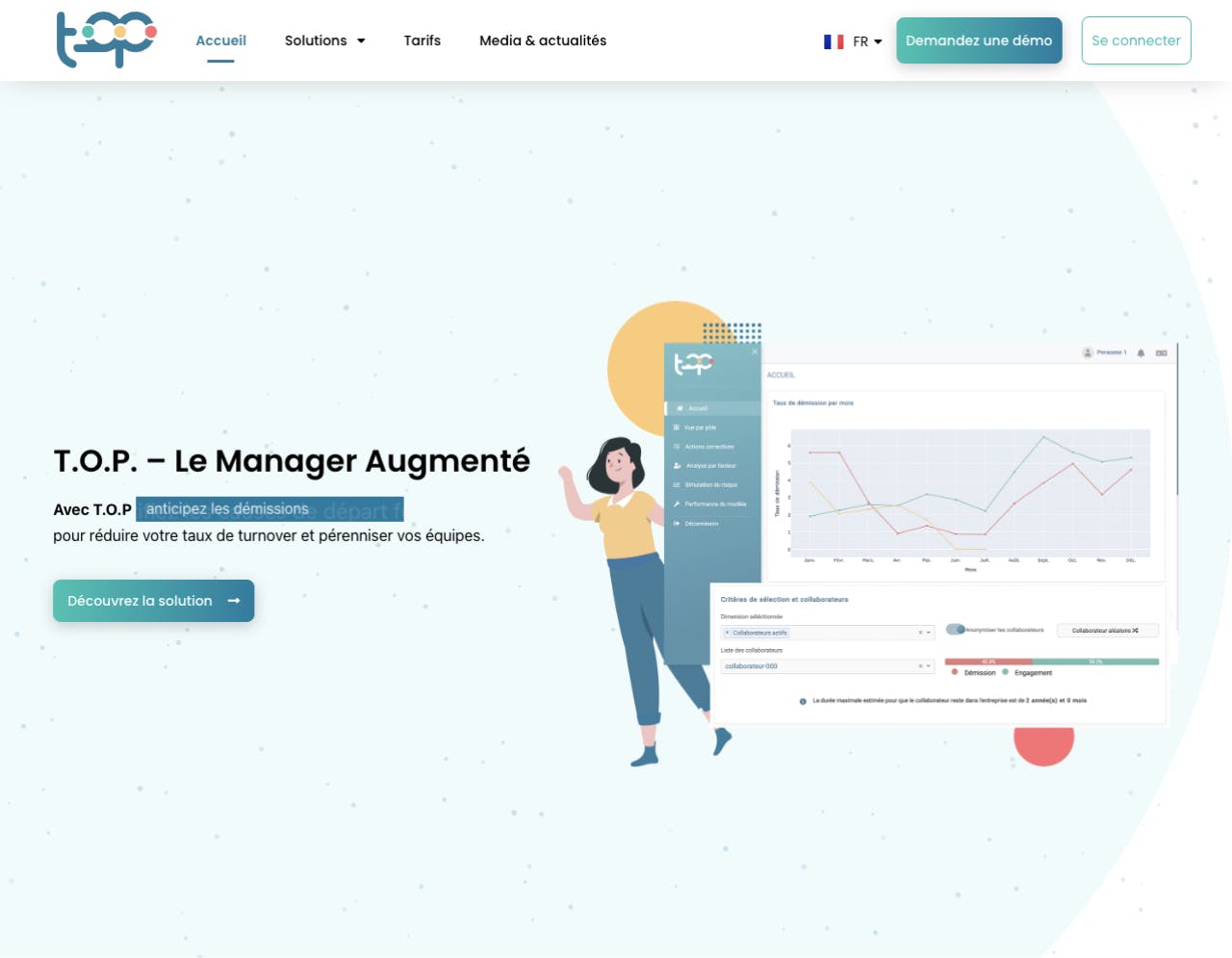 T.O.P for Team Opportunity Prediction, three letters for a strong ambition 
T.O.P, the solution that increases your management, allows managers, business unit managers, HR managers and CEOs to reduce the turnover rate thanks to A.I.
Retaining talent is one of the major challenges for HR departments today, and competition is fierce as the recruitment market is so tight with increasingly rare profiles. This leads employees to be less and less loyal because they are often solicited and chased. A question arises: how to retain talent within the company?
Launched in March 2022 by its co-founder Maxime Cariou, T.O.P is the SaaS solution that integrates Artificial Intelligence, Machine Learning & Data Science in the decision-making process of managers and anticipates resignations.
With a clear value proposition: anticipate departures, advise managers on corrective actions to build a sustainable and healthy business project, T.O.P has convinced investors in France and abroad and has just completed a first fundraising of €1.2M in just 15 days.
With its algorithm adaptable to each business domain, T.O.P rapidly deploys its solution within several renowned companies such as Ted Consulting, Pharmalys, Hiview Solutions or ArtimIS.
SSO authentication, a security and fluidity issue for companies and their employees 
It is often advised to launch an MVP (minimum viable product) first, i.e., a product with limited functionalities to test its market. However, when you have to work with companies of a certain size, many requirements are imposed on you. These requirements are related to security, productivity and user experience issues… Authentication is one of them because it combines all these criteria at the same time. And when we talk about authentication in companies, we often hear about SSO (Single Sign On) authentication, SAML, Azure AD, ADFS, Google Workspace, SCIM…
Behind these acronyms is simply the way companies manage the centralization of authentication for their employees through "identity providers" that will work with these different types of protocols. 
To summarize, single sign-on (SSO) is a method that allows an employee to log in with a single password to a set of different applications (internal or external) that will be offered by their company as part of their duties. 
With the explosion of SaaS use by companies (nearly 300 on average per company), employees have to create many different passwords to access each of them. This poses many problems of security (password theft, employee departure, …), productivity (multiplicity of passwords, loss and reset of passwords, …) and user experience. 
In order to address these issues and risks, companies are increasingly requiring SaaS solutions to SSO into their identity manager. This allows their employees to access all the SaaS they use on a daily basis with their unique identifier without recreating passwords at home. 
SSO-connected SaaS are thus in full compliance with their customers' security requirements and no longer fly under the IT department's radar by being integrated as full partners within the company. 
More and more customers and an accelerating product development 
More and more customers are attracted by T.O.P's innovative approach, which has led it to accelerate its product development with the aim of implementing features that make it "enterprise-ready." Among these features, SSO authentication is one of the priorities to match the security and UX requirements of companies. However, many start-up projects ignore this functionality, thus missing out on many commercial opportunities and closing off access to a part of the market. This is due to the fact that developing SSO connections on your own (do-it-yourself) is a time-consuming, tedious and laborious task. It is a task that often requires several engineers to set up a single type of SSO for a single identity system, not to mention other identity providers and its maintenance over time with a dedicated team. 
Thanks to Cryptr, T.O.P has chosen to offer SSO connection very early in its product life cycle with the desire to quickly have a product that meets the expectations of its customers and prospects. T.O.P was thus able to avoid making a choice between business functionalities and others (often a difficult choice for product teams!) by entrusting Cryptr with the management of SSO authentication and integrating it into the T.O.P solution. 
Intuitive and Fast Implementation 
The Cryptr success developer team, with Thibaud Renaux in particular, worked alongside the T.O.P. technical team to help them deploy the SSO connection within their product. This implementation was fast, intuitive and facilitated by a complete technical documentation and SDKs corresponding to the computer languages used by T.O.P. It took them only a few hours spread over a week to finalize the deployments and test the solution in the Cryptr Sandbox environment before a deployment in a production environment.
"The Cryptr team was very responsive and available for all our technical questions. Using the Dash framework, Cryptr was able to quickly develop a Flask-Dance integration for SSO as well as for the magic link. What was reassuring was that we did not need to have any knowledge of SSO authentication to implement their solution. Cryptr was a real liberation and allowed us to dedicate our entire team to our business features."
Amine Menacer, CTO & Co-founder of T.O.P
Set up the SSO connection for customers in 5 minutes 
Once the Cryptr solution was deployed, T.O.P allowed its customers to set up the SSO connection in 5 minutes for their customers' IT Admins thanks to self-service onboarding. This feature allows their customers to be autonomous and avoids many round trips of emails and information exchange. This self-service onboarding is a complete step-by-step process that allows IT Admins to connect their SSO to the SaaS they need to collaborate with in a few clicks, regardless of the type of SSO or identity provider they use.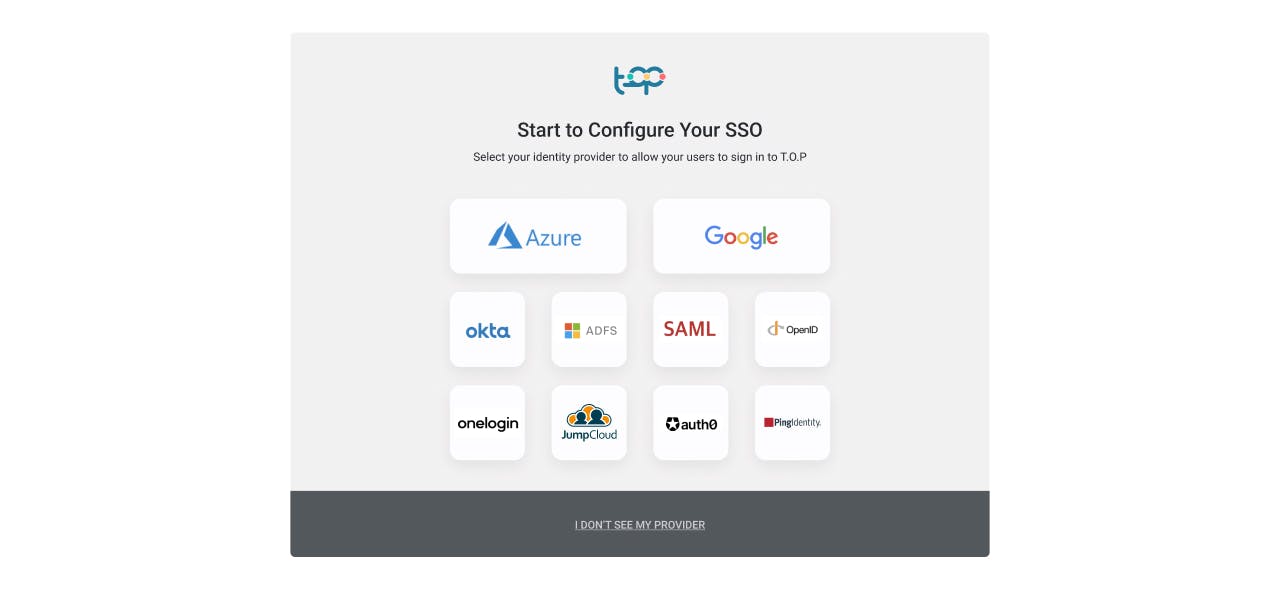 Once the contract is signed, T.O.P. can immediately offer its customers the opportunity to start using their solution without having to do any heavy technical work on SSO authentication. 
Cryptr, a long-term partner for T.O.P 
With the complete catalog of SSO connections (SAML, Azure AD, ADFS, Google Workspace, …) and identity providers (Okta, Ping Identity, One Login, …) offered by Cryptr, T.O.P can now connect in 5 minutes to all types of SSOs of companies whether they are located in France, in Europe or internationally. Today, T.O.P is in a position to serenely develop with companies that require SSO connection and thus expand its market. 
"More than a technical partner, Cryptr is also a partner in our business development and accompanies us as needed in prospect meetings where the topic of SSO authentication is discussed."
Co-founder of T.O.P
SSO as a Business Accelerator
SaaS are now used everywhere and large companies have adopted them massively. This adoption has sometimes been to the detriment of the IT department, as each department (marketing, HR, accounting, etc.) can take out a SaaS subscription without necessarily informing the IT department, thus contributing to the creation of shadow IT. This situation leads to security, compliance and insurance issues related to the security policy of corporate information systems. With SaaS governance progressively developing, CIOs are regaining control with the objective of having a 360° view of the SaaS used within the company and the management of their access. Connecting SaaS in SSO allows to have this visibility and also to have an optimized access management in terms of security and experience for the employees. 
So becoming "SSO Ready" allows SaaS companies to differentiate themselves in often very competitive markets and to match enterprise requirements. They can quickly access large enterprise markets very early in their product life cycles and accelerate their development by "crossing the chasm."
With Cryptr, T.O.P now has an authentication that is compatible with all types of SSO and identity providers encountered in its business development. 
For more information about our Universal SSO Connector, you can watch our video: Cryptr Enterprise Connection. 
So, ready to become SSO ready? We tell you more at Cryptr.