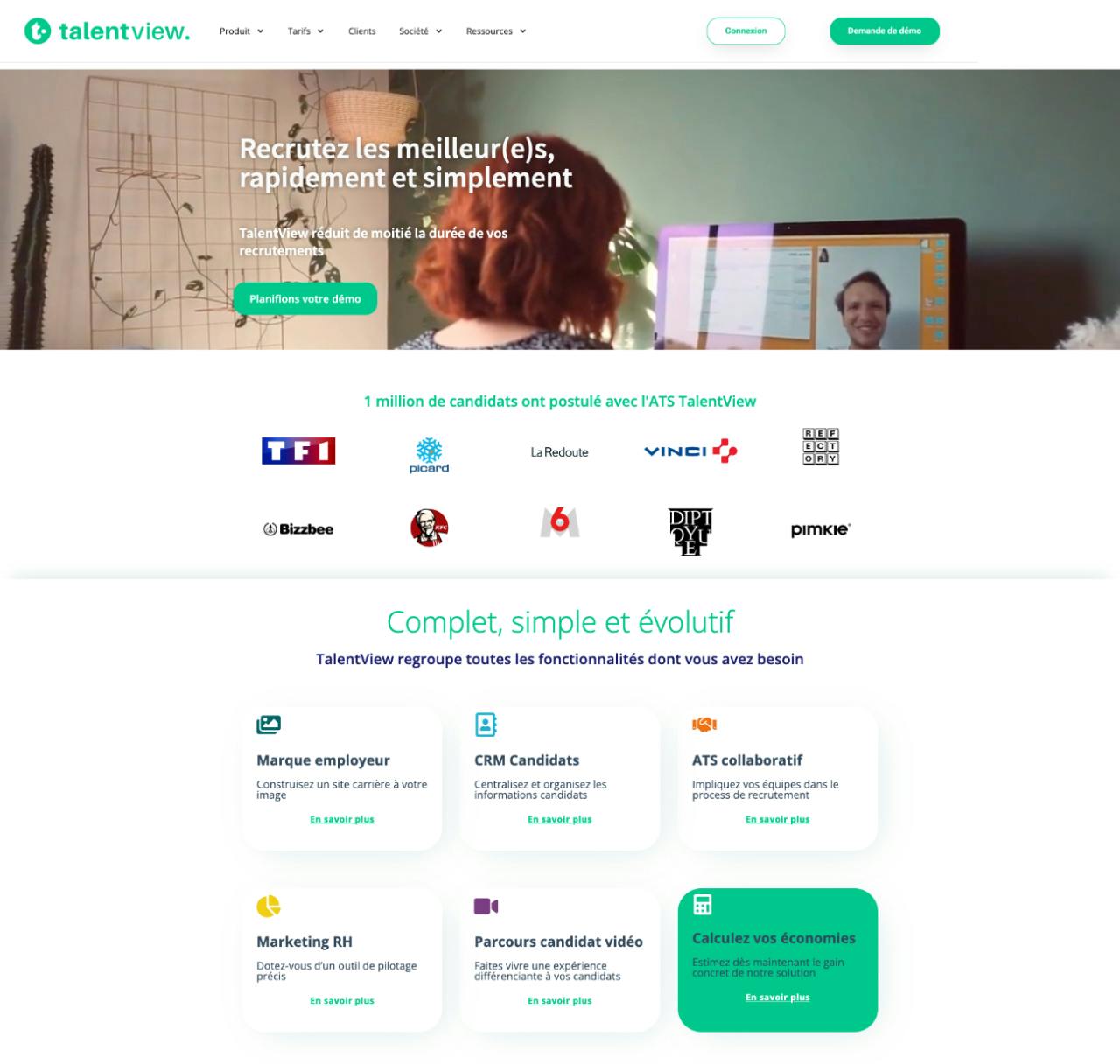 A new approach to recruitment and rapid growth.
Founded in 2016 by Louis André, TalentView is an ATS that makes it faster and easier to recruit the best talent available on the market. The objective is to propose an innovative vision of recruitment by providing an answer to a question: how to recruit differently and offer a new experience for candidates to facilitate the selection of the best profiles for companies? TalentView provides the answer by allowing companies to build a recruitment tunnel that facilitates the detection of the best talents. Their tool also allows candidates to give their best by using the latest video innovations.
A fast-growing team and an increasing number of clients led the company to accelerate the development of its offer. TalentView quickly began to attract large, leading companies.
SSO Login, a Requirement for Large Enterprises
For SaaS companies, working with large enterprises quickly brings new topics and challenges in the product roadmap and in the adaptability of their solutions to the requirements of this size of customer. One of the requirements of large companies is the demand to implement SSO authentication with the SaaS solutions they use. 
What is SSO authentication? Single sign-on (SSO) is a method of allowing an employee to log in with a single password to a set of different applications (internal or external) that the company offers for work. SSO allows companies to better manage employee authentication (workforce authentication) for security and user experience purposes. For more information, you can read our blog post: What is SSO? 
SSO authentication is now systematically required from SaaS by large companies for security reasons, compliance related to their certifications, their insurance and their information systems security policies. CISOs are fighting hard to ensure that this requirement is respected. Being connected in SSO is now required in the contracts that bind companies and SaaS to collaborate. The challenge for them is to avoid unpleasant inconveniences such as letting an ex-employee of the company who left a long time ago continue to use his access, not being able to detect compromised passwords and change them easily, multiplying the creation of weak passwords by employees, overloading the support teams… 
Internalize or outsource what is not related to the business functionalities of my product?
TalentView was confronted with these issues and prioritized the expected new features. The goal is to determine which customer expectations should be prioritized to optimize their experience on the platform while remaining aligned with the expectations of the recruitment market. And these features are not always the same. It's a trade-off that can sometimes be difficult because startups' technical teams are so busy with tight deadlines to meet.
The question then arises: should I internalize or outsource what is not related to the business functions of my product? This is a legitimate question in the context of setting up SSO connections with their major customers. Faced with strong demand, TalentView had an urgent need to meet the level of compliance and security expected by large groups.
Believing that it would take a long time to develop internally to meet this requirement with technical resources focused on the product, TalentView explored different solutions that would allow them to outsource the management of SSO connections with their customers. 
Cryptr, a robust solution capable of meeting and adapting to authentication needs  
After comparing different solutions available on the market, TalentView's teams selected Cryptr. More than just a technical partner, TalentView saw Cryptr as a long-term partner with the ability to support its business development and meet future authentication and security challenges.
They were able to implement the Cryptr solution in a few hours and were quickly able to offer SSO authentication to their customers, as confirmed by Anthony Mangiavellano, CTO of TalentView: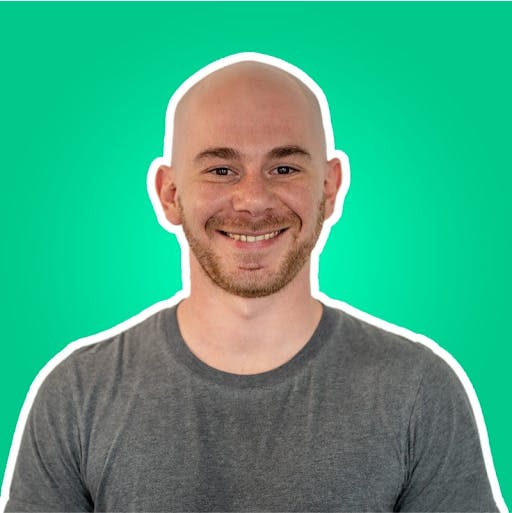 "In addition to a quick and easy deployment, we were able to count on the availability of Cryptr's Developer Success team and their responsiveness. Thanks to the fluidity of the exchanges on their slack @cryptr_community during the onboarding phase, we were able to quickly obtain answers to our various questions. The Cryptr team also accompanied us in technical meetings with our customers when the exchanges concerned the SSO connection. Thanks to Cryptr, we have a solid SSO solution, capable of meeting and adapting to the authentication needs of our customers."
There were several reasons for choosing Cryptr:
Quick and easy implementation 
A quick implementation facilitated by a complete technical documentation and a complete panel of SDKs according to the type of technical language used (React, Angular, VueJs, …). A sandbox environment facilitating the implementation and testing of Cryptr with a fast deployment in production environment. 
Self-Service Onboarding for Enterprise IT Admins
A self-service onboarding for IT Admins of TalentView customers allowing them to finalize the SSO connection in a few minutes and making them autonomous. It is a complete step-by-step process that allows IT Admins to connect their SSO to the SaaS they need to collaborate with a few clicks, regardless of the type of SSO or identity providers they use: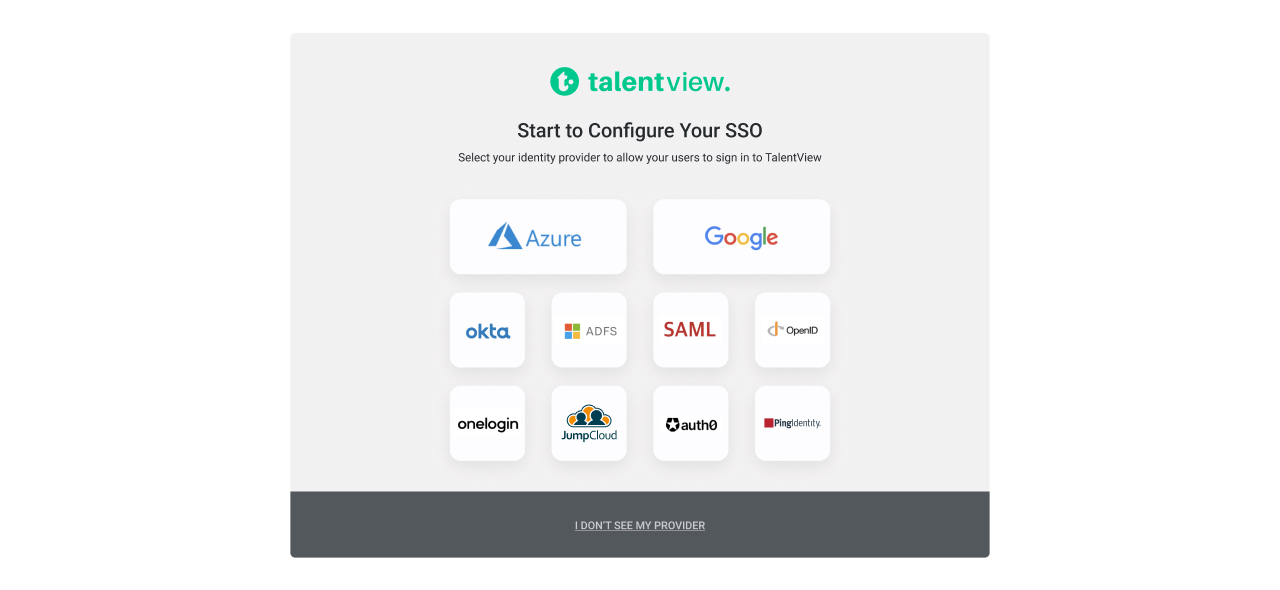 The feedback from TalentView's IT Admins on this onboarding was very positive and they were able to set up the SSO connection on their side in a few minutes.
A dedicated infrastructure and a multi-tenant architecture  
A dedicated infrastructure and a multi-tenant architecture allowing TalentView to offer a connection portal to each of its customers depending on the type of SSO used with a dedicated database for its users: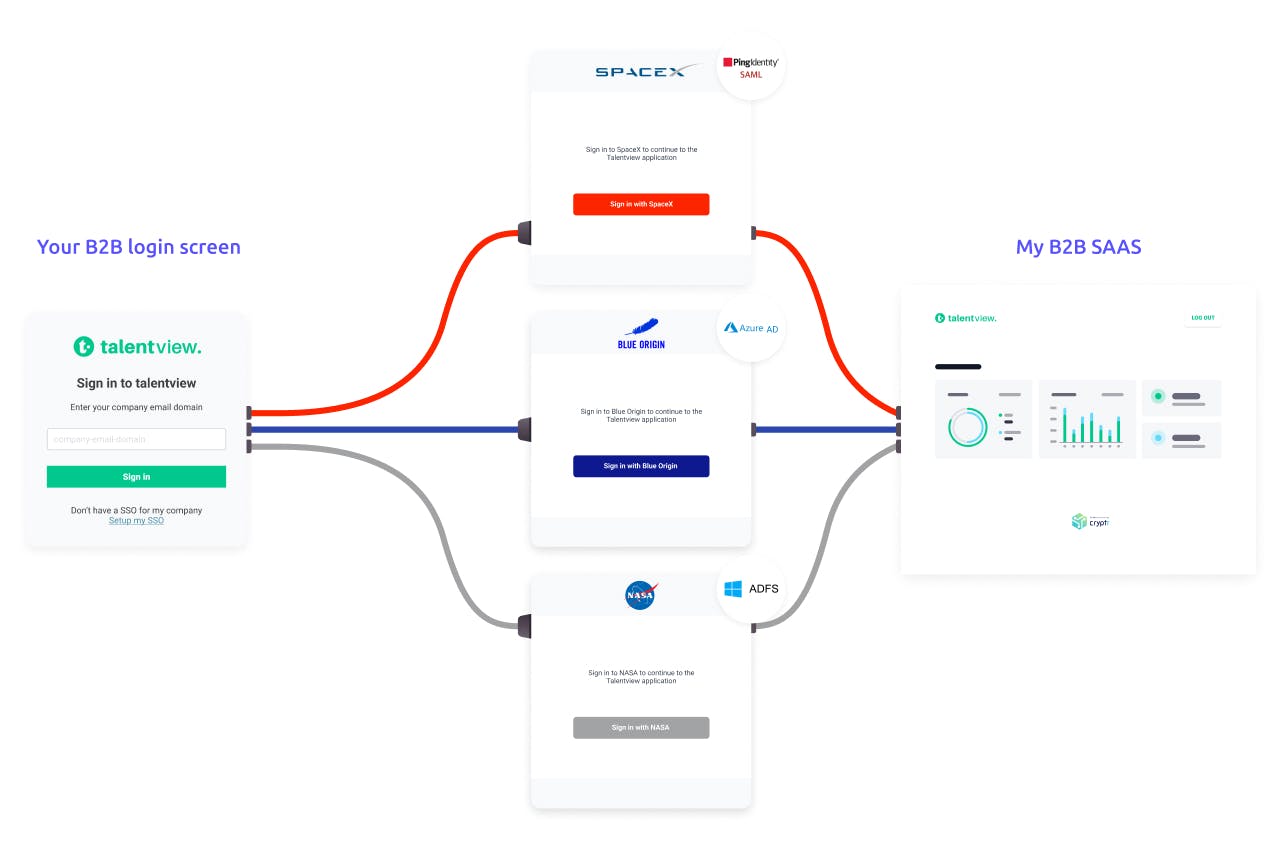 A universal SSO connector, regardless of the type of SSO
A complete catalog of SSO connections (SAML, Azure AD, ADFS, Google Workspace, …) and compatible identity providers (Okta, Ping Identity, One Login, …) offered by Cryptr: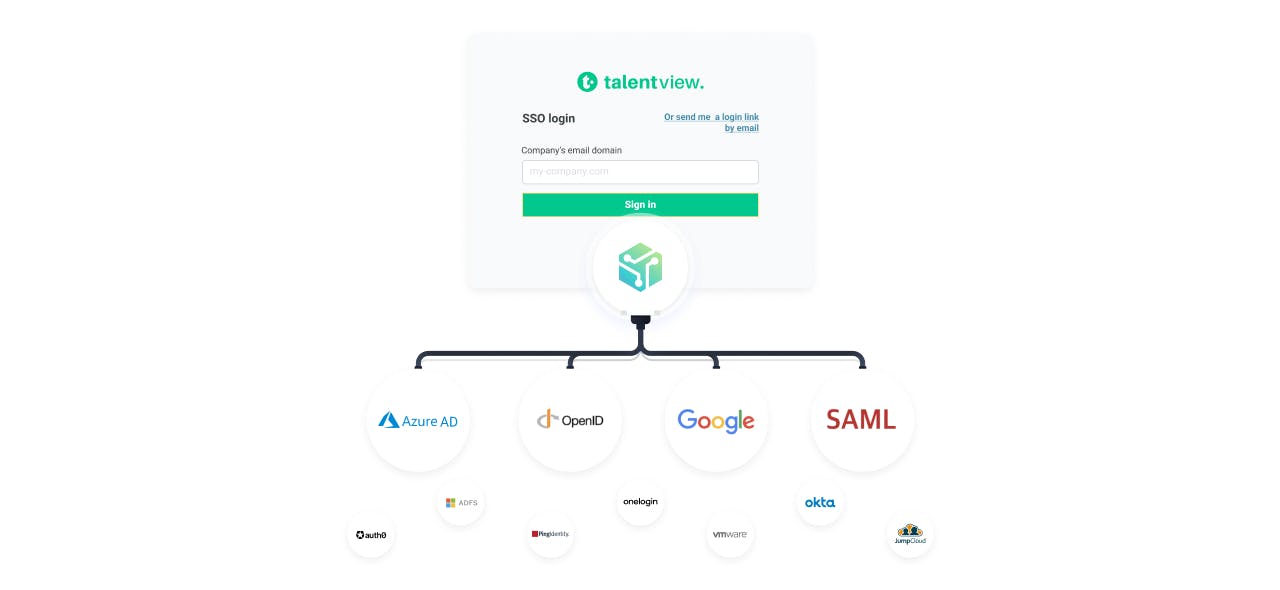 The advantage of using Cryptr? No additional development effort was required for TalentView to enable their customers to SSO with Cryptr's documentation, allowing their customers' IT Admins to enjoy a simple, smooth and secure onboarding experience. With Cryptr, TalentView was able to save a lot of development time, allowing them to focus on what matters most: helping their customers recruit top talent.
SSO, a Business Asset and a Competitive Advantage
More and more companies are requiring SaaS to connect to their SSO system to provide a more secure and seamless authentication for their employees. This requirement is increasingly reflected in the contracts signed and in the specifications of tenders issued by large companies. The challenge for SaaS is to become "SSO-ready" in order to be able to connect quickly to the different types of SSO and identity providers that they may encounter with their customers or corporate prospects. Meeting this requirement is both a security issue, but also a business issue in order to expand its market and contract with customers who have this expectation. 
By choosing Cryptr, TalentView was able to make its authentication compatible with all types of SSO and identity providers encountered by its prospects and customers. By being "SSO Ready", they were able to win new customers. 
For more information on our Universal SSO Connector, you can watch our video: Cryptr Enterprise Connection. 
So are you ready to become "SSO ready"? We tell you more at Cryptr.