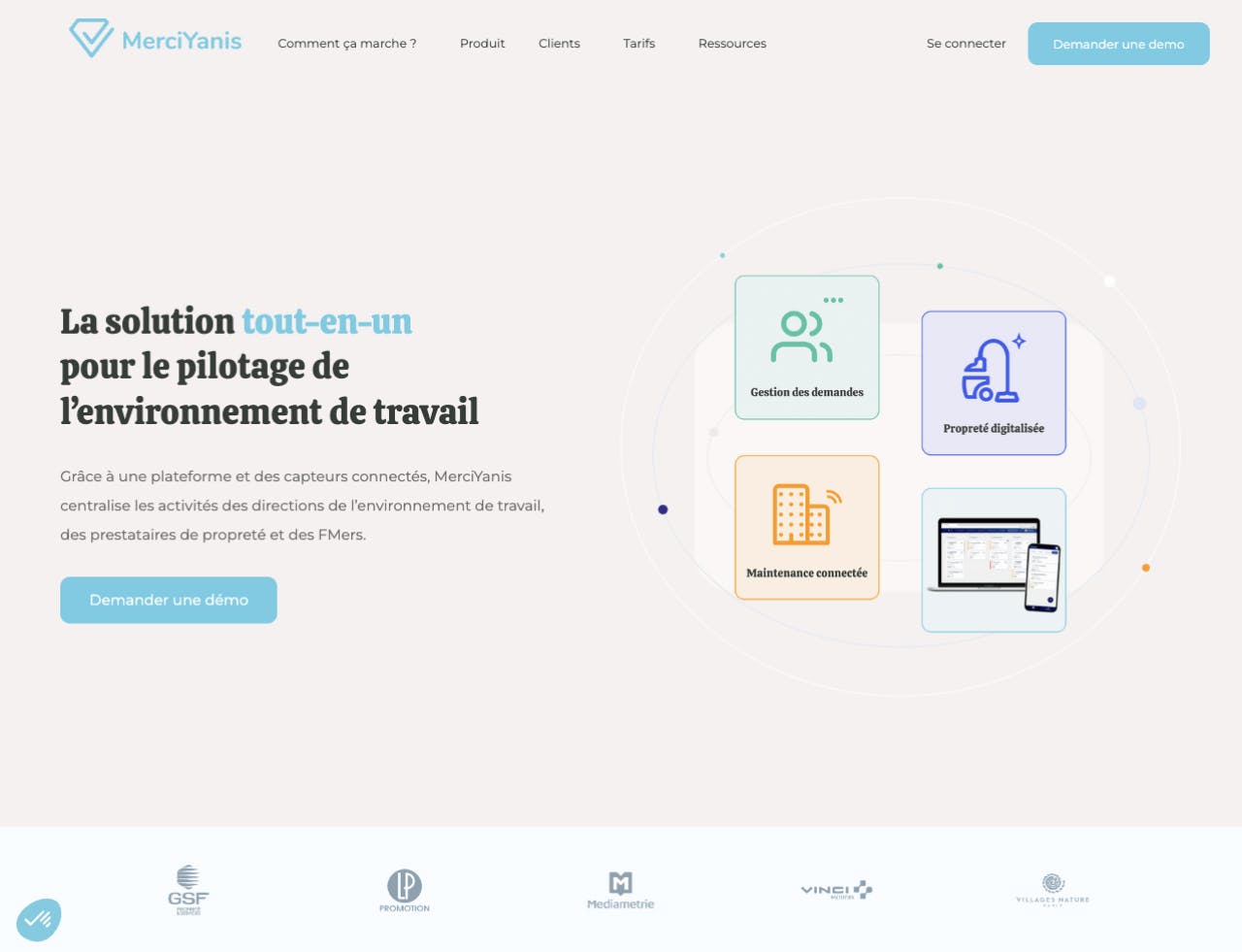 When several talents meet…
… this gives MerciYanis, one of the most promising startups in the smart building field.


MerciYanis is developing a platform that offers digital management of a building's general services (cleaning, breakdowns, etc.), coupled with sensors.
Startups' names often have a strong history. The founders name their company as caravels could be named in the days of great maritime exploration, with the ambition of leaving a strong mark in history. The one of MerciYanis was born from a meeting between Élise Applanat, Guillaume Blanc (cofounders) and Yanis Bensetti, head of the general services at IoT Valley. It's the type of meeting that changes a life, and that will make them want to create a startup in order to solve a major problem for general services: to allow them to have intelligent, simple and centralized management of all maintenance activities, and building maintenance.
The name of the startup is then all found… 
A strong and ambitious mission  
Revolutionize the management of the work environment, optimize the use of systems and offer a better user experience while combining clear objectives: saving energy, improving safety, facilitating maintenance, etc.
For this, the Toulouse startup offers a solution at the heart of innovation, which is based on connected buttons, QR codes and IoT (Internet of Things) sensors. All this data is centralized within a SaaS platform that connects to businesses' tools, and allows them to manage everything remotely.
Smart Building, what are we talking about? 
A smart building is a building equipped with intelligent technologies, which make it possible to efficiently manage and control the systems of air conditioning, lighting, electricity and other services. Smart buildings use sensors, software and networks to collect real-time data on the use of various building systems, then use this data to optimize performance and efficiency.
The advantages of smart buildings are numerous. First of all, they save energy by adapting the different systems according to the real needs of the building. This can reduce electricity, heating and cooling consumption, which can lead to significant savings on energy bills, which is strategic in today's environment with increasing energy prices. 
In addition, smart buildings offer a better user experience by adapting the systems according to the preferences of the occupants. For example, sensors can detect if a space is occupied, and adjust temperature and lighting accordingly.
Smart buildings can also improve security by using technologies such as facial recognition or motion detection to control access to different areas of the building.
Finally, smart buildings can facilitate maintenance by using sensors to detect potential problems before they occur, helping to avoid breakdowns and production stoppages.
A meeting at 50 Partners 
Cryptr and MerciYanis are both part of the acceleration program of 50 Partners.
50 Partners is one of the main startup accelerators in France. Co-founded by 50 successful tech entrepreneurs (BlaBlaCar, Showroomprivé, Le Bon Coin, etc.), the program provides a few selected startups with high-quality mentorship, funding, international connections, as well as a network and offices in central Paris.
It is a comprehensive ecosystem dedicated to innovative technology projects, in which entrepreneurs, venture capitalists, companies and industry experts are committed to helping startups succeed.
Beyond the notion of acceleration, joining 50 Partners means joining a family that will help you grow and that puts startups in the best possible conditions to give the best of themselves and help them win precious time.
Directed by Jêrome Masurel with a team involved on a daily basis with accelerated startups, 50 Partners has become a benchmark among European accelerators.
A common desire brings Cryptr and MerciYanis together, that of responding to essential issues for their customers: MerciYanis by providing an innovative all-in-one solution for managing business work environments, and Cryptr by providing SaaS with a complete response to authentication security requirements of their customers.
SSO authentication, a request from large companies
Single sign-on (SSO) is an authentication method that allows employees of a company to identify themselves on several systems and applications with a single identity. This approach offers several advantages over traditional authentication methods.
First, SSO provides a better user experience because users don't have to remember multiple different usernames and passwords to access different systems and applications. They can log in to all the services they have access to, using a single identity, saving them time and working more efficiently.
SSO also improves security because it uses secure authentication protocols to verify user identities. This avoids the risks of hacking associated with the use of weak or common passwords, and ensures that only authorized users can access protected systems and applications.
In short, SSO is « one password to connect them all » (and much more convenient than a ring ;-) ) with several advantages:
Simplified user ID and password management
Reduced ID and password management costs
Improved security with secure single sign-on for access to multiple applications
Better management of permission and access permissions for applications and resources
Improved user experience by simplifying the authentication process.
Companies have understood this, and increasingly require SaaS suppliers to connect to their SSO authentication system for all these reasons.
An accelerating development 
Sales cycles can sometimes accelerate faster than expected, especially when developing a solution that meets a strong need.
MerciYanis quickly finds himself signing several large contracts and having to deploy their solution quickly. One of the requirements of some customers to start this collaboration is that MerciYanis has to be connected to their SSO system.
SSO authentication then becomes an essential issue for them, in order to move forward with their customers and deploy their solutions. The deadlines are tight, the roadmap is loaded, and the teams are at the forefront on all subjects.
This is where Cryptr comes in, after a few exchanges with Élise Givelet (CTO of MerciYanis) the scope of the collaboration is quickly defined.
Cryptr will be MerciYanis' long-term partner for the SSO connection with their customers and will support them in their growth.
A simple and fast implementation
Due to MerciYanis' busy product roadmap, the implementation of an SSO connection solution had to be fast and take very little time for their tech team. This is how the entire Cryptr product was designed.
Cryptr has developed a panel of complete SDKs, covering a wide range of front end technologies: React, Angular, VueJS and of API implementation for the back end: NodeJS, PHP Laravel and Symfony, Django, GO, Flask, JavaScript, Java, RubyOnRails…

With the SDK corresponding to their technology, MerciYanis was able to quickly test Cryptr with its sandbox mode, and then deploy it in a production environment once all the settings were done.
A team close to its customers 
Cryptr has a very customer-centric DNA, with a simple motto: never let a customer down. This DNA transpires at all levels at Cryptr: from understanding the authentication needs of its prospects, to support in the technical deployment of its solution with a developer success team always available.
In order to make exchanges with its customers more fluid, a Slack workspace called " cryptr_community " has been set up. Each of the customers benefit from a private channel to exchange with Cryptr's developer success team.
In this context, a private Slack channel is then created so that the MerciYanis IT team can implement Cryptr with the support of the developer success team, which is always available by message or video.
With a few lines of code and the support of the Cryptr team, MerciYanis was able to become "SSO ready" easily and meet the deadlines requested by its customers to connect to their SSO systems.
Only 5 minutes… 
With the Cryptr solution implemented, MerciYanis can now allow its customers to set up their SSO connection in less than 5 minutes to the MerciYanis platform. Thus, their clients' employees can immediately access the MerciYanis solution with their own company identifier.
Today, MerciYanis just needs to send an email including an onboarding URL that allows their customers' IT Admin to be autonomous in setting up the SSO configuration.
It is with this self-service onboarding that IT managers can configure the connection of their SSO system in less than 5 minutes, thanks to an interactive interface with a complete step by step indicating all the steps to follow and actions to perform, and this regardless of their SSO solution (Okta, Ping Identity, Azure AD, ADFS, etc.).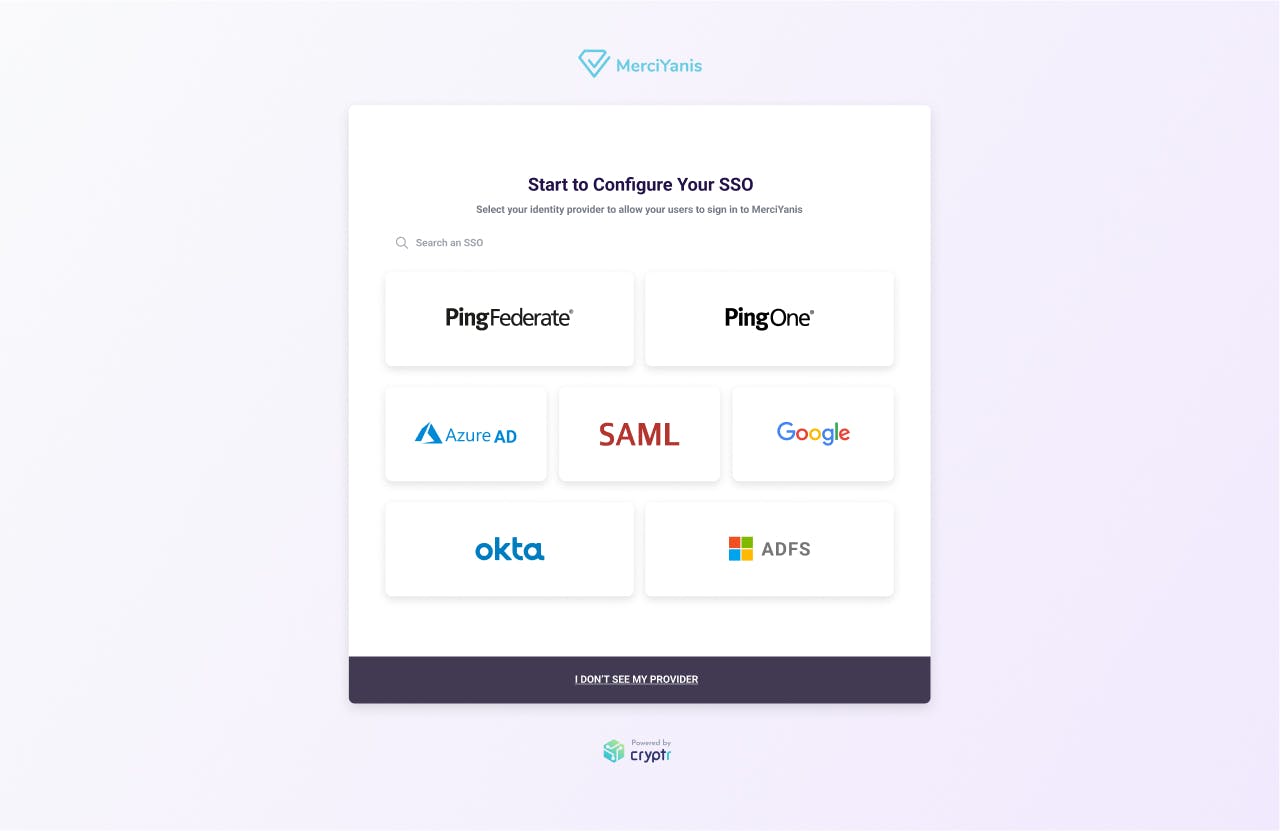 A universal SSO connector 
Cryptr offers a universal SSO connector, which adapts to all types of SSO connections and Identity Providers available on the market: Okta, Ping Identity, Azure AD, ADFS, SiteMinder, Keycloak, IBM Security Access Manager and many more. 
Cryptr can also develop the SSO connection with systems of less common identity providers for its customers, at no additional cost. 
MerciYanis can thus easily adapt to all types of SSO that they will encounter during their commercial development.


A real plus for expanding its market with large companies, and accelerating its growth.
B2B authentication adapted for SaaS 
Cryptr also offers other products such as authentication without passwords thanks to the magic link, synchronization of directories with directory sync, management of logins/password, double factor authentication...
The objective is simple: to provide SaaS with the most suitable B2B authentication according to the security requirements of their customers.
So thank you to Yanis for giving the opportunity to a talented team to create one of the most promising and innovative startups in smart building, and thus allowing it to cross paths with Cryptr.
For more information on Cryptr Enterprise Connection, here is a short video showcasing the product: Cryptr Enterprise Connection