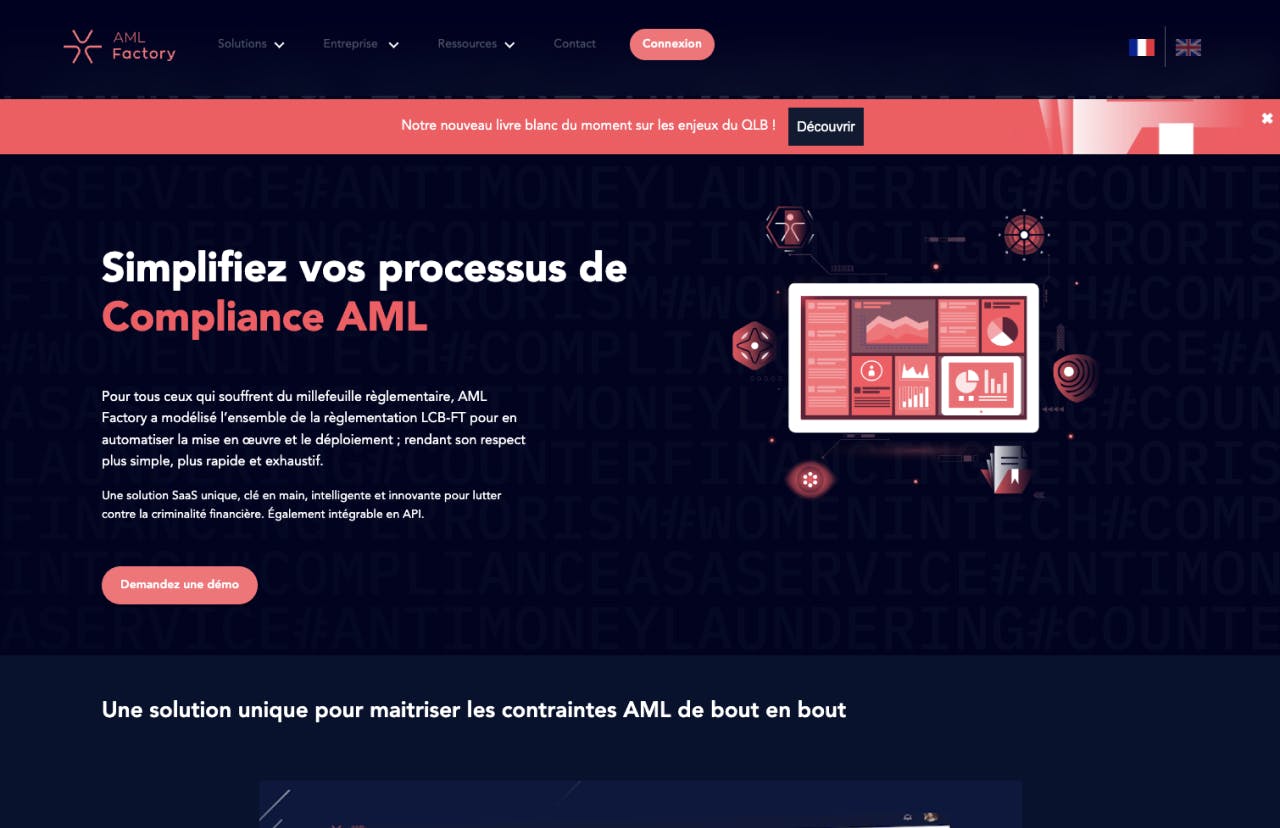 A strong ambition to support companies on a major challenge: 
A.M.L, 3 letters for Anti Money Laundering. AML Factory offers a global compliance-as-a-service solution, allowing companies subject to anti-money laundering and anti-terrorist financing regulations to be compliant at all times and for every obligation.
Penalties for non-compliance with these regulations can kill companies that are exposed to them.
AML Factory has modeled all of the anti-money laundering and counter-terrorist financing regulations in order to automate their implementation and deployment.
The objective is to make compliance with these regulations simpler, faster, and more comprehensive within companies.

Launched in January 2019 by her CEO Charlotte Gaudin, AML Factory is the first global solution in the fight against money laundering and the financing of terrorism.
Charlotte dreamed of being a commissioner, and it is part of this dream that is coming true because today AML Factory is the bulwark for companies against money laundering and the financing of terrorism. 
A simple SaaS solution that makes the AML-CFT regulations simpler and more comprehensive for companies and employees. 
Based in Paris, the company counts amongst its customers financial institutions (banks, credit institutions and institutional), as well as fintech of all sizes (cryptocurrency platforms, payment institutions, electronic money, manual changers, etc.).
SSO authentication, a must-have for sensitive activities
AML Factory's customers benefit from a large catalog of features, ranging from the real-time compliance rate to the training of employees thanks to specialized regulatory monitoring, through in-depth analyzes of the transactions carried out by the company. A real dashboard to simply ensure the compliance of the company.

By the nature of its activity related to financial flows, compliance and the fight against the financing of terrorism, AML Factory aims to offer the most secure solution to protect the integrity and reputation of its customers.

In terms of security, authentication is nowadays a major issue for enterprises.
As such, they increasingly require SSO authentication (Single Sign-On) from the SaaS they use.
To cope with this growing demand for SSO connection, AML Factory has started to learn about the SSO connection solutions available, to outsource this authentication brick which is a prerequisite for deploying the solution to its customers. 

After a benchmark of the solutions available on the market, @Romain Cauquil, CTO of AML Factory has set its sights on the universal SSO connection solution developed by Cryptr. 

Quick and easy deployment
After an exchange to gather the authentication needs of AML Factory, Romain was able to have answers to all of his questions on the technical functioning of the SSO connection via Cryptr, and was seduced by the complete catalog of SSO connections offered by Cryptr. The ease of implementation, and the significant time savings provided by the Cryptr solution enabled the AML's IT team to focus on topics related to the development of business features on their roadmap. 

In order to facilitate exchanges with its customers, Cryptr has set up a Slack workspace called "cryptr_community" where each of its customers benefits from a private channel to exchange Cryptr's developer success team. In this context, a private Slack channel is then created so that the AML IT team can implement Cryptr with the support of the developer success team, available by message or visio.

In collaboration with @Thibaud from Cryptr's developer success team, @Jakob from the AML Factory team was able to quickly implement Cryptr by being accompanied during all stages of the integration process.

Thanks to the Cryptr SDK for Angular, the complete technical documentation and the help of Thibaud, it only took a few hours for AML Factory to deploy Cryptr and start testing SSO connections in a sandbox environment.

First, AML Factory was able to test the SSO connection on a test identity provider (Azure AD) in a sandbox environment. The tests being successful, AML Factory is now SSO ready and can offer a secure SSO connection in order to always better meet the security and user experience requirements of its customers.
5 minutes to connect your customers in SSO 
Thanks to self-service onboarding, for the IT Admins of AML Factory customers, setting up the SSO connection becomes child's play and it takes them no more than 5 minutes to connect their identity provider in SSO (Okta, Ping Identity, Azure AD, etc.) to AML Factory.

From now on, when AML Factory receives an SSO connection request, all they have to do is send an email including an onboarding URL which allows their client's IT Admin to be autonomous in setting up the SSO connection, thanks to an interactive and personalized step-by-step process in the colors of AML Factory. The IT admin is guided from start to finish using screenshots indicating the various information to be retrieved from his identity provider in order to configure the SSO connection: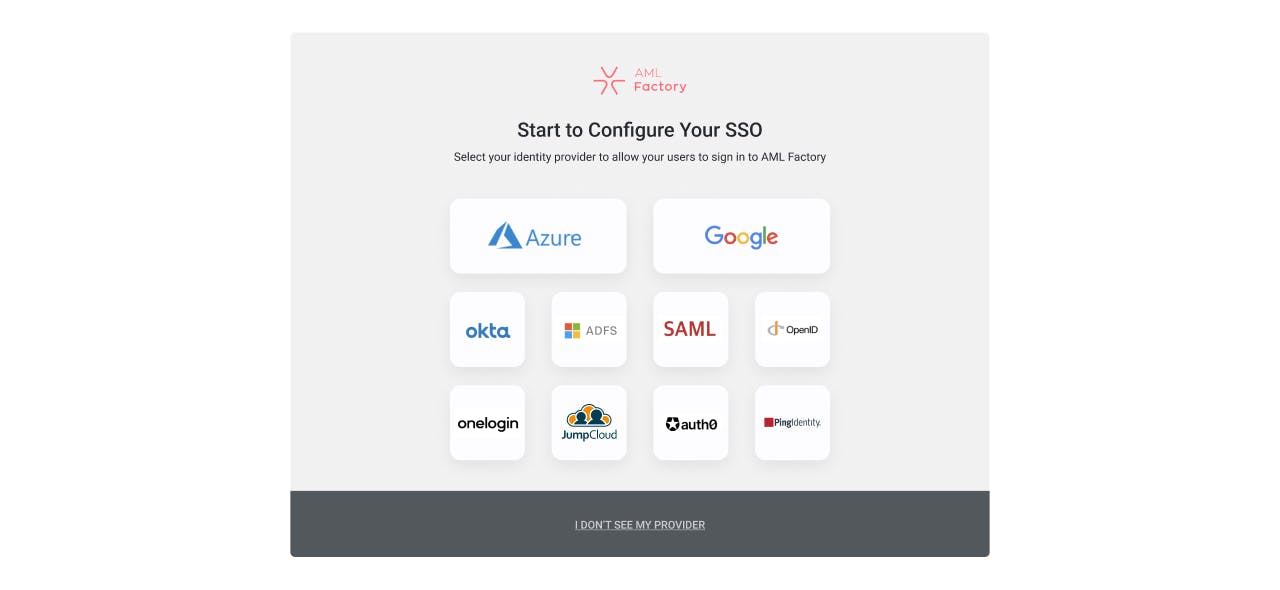 A complete and growing SSO catalog 
Cryptr offers a wide choice of SSO connections (Okta, Ping Identity, Azure AD, ADFS, Ping One, Ping Federate, SiteMinder, Keycloak) and already covers a lot of identity providers.
However, it sometimes happens that certain large enterprises use solutions that are less known on the market.
This is what happened with one of the customers of AML Factory, a renowned financial institution, which uses the IBM Security Access Manager solution to manage the authentication of its employees.
The IBM solution is not yet available in the Cryptr catalog, so AML Factory wondered how to connect to this identity provider.
Cryptr, wishing to become a long-term partner of its customers, has therefore developed this additional connector at no additional cost for AML Factory.
The objective is simple: to be the business partner of AML Factory by allowing them to offer the authentication solution that best suits the needs of their customers.
For Cryptr, this makes it possible always to be more exhaustive in the catalog offered to its customers, and for AML Factory it saves significant development time, but also to go through the same service provider for authentication and thus to have a standardized experience.

A multi-tenant infrastructure to offer the most appropriate authentication
As a Cryptr client, AML Factory has a multi-tenant architecture with a user directory for each of its clients.
This makes it possible to quickly deploy new customers but also to offer the most relevant authentication strategy on each of these tenants.
With Cryptr, AML Factory has access to a wide range of authentication systems:
SSO connection with AML Factory regardless of the client's identity provider
connection without password thanks to the magic link
classic connection with login and password
Sovereign and European authentication
With Cryptr, AML benefits from a 100% French solution that respects the European GDPR framework.
Cryptr is thus working for sovereign authentication in Europe in order to guarantee true digital independence to its customers by not having any of its hosting providers subject to the American "Cloud Act."
Cryptr brings clear readability concerning the authentication data of its customers, and real certainty in terms of sovereignty.
In order to be a real business partner for its customers, Cryptr has decided to offer a dedicated infrastructure, based in France or in Europe according to the choice of its customers, in order to facilitate discussions with large groups, sensitive to the policies of data processing of its SaaS providers.
SSO connection, a business accelerator for SaaS 
Faced with growing demand, more and more SaaS are now forced to offer SSO connection to their users for security and user experience motives. 
This unique authentication feature allows SaaS to sign lucrative contracts with large accounts by meeting their security requirements.
Conversely, not offering this functionality reduces the credibility of SaaS in the eyes of the IT departments of large groups.
By choosing Cryptr authentication solutions, AML Factory is now ready to respond effectively to this growing demand.
An always up-to-date user database thanks to SCIM
Recently and in order to reassure large groups, Cryptr also offers directory synchronization via the SCIM (System for Cross Domain Identity Management) protocol, which, via automatic provisioning and deprovisioning of users, makes it possible to have a number of licenses up-to-date at any time. 
This protocol makes it possible to retrieve data relating to the identity of users from identity providers and communicate it to the SaaS that needs this information.
The automatic transfer of these identification data reduces the risk of error and also makes life easier for the IT departments of large accounts who no longer need to create accounts in each application as they onboard new collaborators.

A big thank you to the entire AML Factory team for their trust.

For more information on Cryptr Enterprise Connection, here is a short video demonstrating the product: Cryptr Enterprise Connection