Wednesday, September 21, 2022, at 9:00 a.m., Paris town hall is stormed by numerous startups for an annual event which has become unmissable: the Hacking of the Hôtel de Ville, now renamed the Paris de l'innovation. 
Cryptr is one of the startups that does not miss this annual meeting and it is at the bend of an alley that Malo, Head of Sales of Cryptr, spots a booth that stands out, run by two people in kimonos. These two people are none other than Xavier Paquin and Manuel Fontanier, the "senseis" co-founders of the successful startup Kamaé. Two entrepreneurs who are experts in Cybersecurity & GDPR, and passionate about gamified awareness.

Kamaé is a term used in martial arts, it means "guard" in Japanese.
Kamaé's goal? Warn all employees against cyberattacks!
The Kamaé cyber dojo is the simple and gamified cyber risk awareness platform: the DuoLingo of cyber risk awareness. It allows employees of private and public organizations to develop their reflexes and automatisms to avoid falling into the traps of hackers, and to use personal data in compliance with the GDPR (General Data Protection Regulation), via micro-learning, role-plays in the form of challenges or phishing simulations and reflex sheets.
When we create a business, we often look for the DNA to infuse into this creation to uphold the values ​​that drive us. For Xavier and Manuel, these values ​​are those of the sensei, which are essential for the transmission of knowledge and the creation of a positive and productive learning environment in order to guide employees in their training in cyber ​​risks in order to better protect them.
Cyberattacks have become a daily reality for businesses, regardless of their size. Hackers are becoming more sophisticated and using increasingly complex techniques to penetrate companies' computer systems, and the consequences of a cyberattack can be devastating for a business.
It is to best support its customers in the face of this growing threat that Kamaé was born, with the mission of training as many employees as possible in cyber risks in order to allow companies to be better protected and reduce their attack surface.

Through a fun and gamified interface, users can join the cyber-dojo, easily train on important topics, and protect their business.
Sensitive to the mission carried by Kamaé, the Cryptr team was interested in the idea of ​​discussing the authentication challenges encountered by Kamaé during their commercial development.
Kamaé had already tested several authentication management solutions but was not fully satisfied with them.
The main reasons? An exorbitant cost, significant functional limitations and data stored in the United States.
Conversely, Cryptr is a simpler and more targeted authentication solution for B2B SaaS companies. It is ideal for developers who want to quickly add authentication to their applications with minimal programming effort and still evolve their authentication policy without having to regularly modify their source code.
Due to its European and sovereign approach, Cryptr is today a strong alternative to American authentication solutions which do not take into account GDPR and data storage issues on European soil. More and more large companies are sensitive to these subjects and SaaS are increasingly challenged on the issues of data sovereignty.
It is therefore natural that Kamaé let Cryptr enter his dojo to start a long-term partnership together on their authentication issues.
Cryptr, a single integration for multiple authentication methods
Following this meeting, the Kamaé teams made the decision to integrate Cryptr in order to test the different authentication solutions: SSO, magic link, login/password connection, 2FA, SCIM, etc.
A dedicated Slack channel is then set up to allow Kamaé's technical team to communicate directly with Cryptr's developer success team for greater fluidity.
This is also an opportunity to take stock of the authentication methods used by Kamaé: SSO authentication for Kamaé's large account customers, and passwordless authentication using the magic-link solution offered by Cryptr for smaller companies that are not having an internal identity manager.
With its multi-tenant architecture, Cryptr will allow Kamaé to offer specific authentication for each client, based on the latter's needs and preferences.
This type of architecture offers flexibility, security and compliance, and allows SaaS to offer an authentication method adapted to each client, and to meet their security and comfort requirements.
In terms of UX, thanks to the simplicity of customizing connection interfaces via the liquid templating, Kamaé was able to quickly create immersive interfaces for its end users in order to maintain the unique identity of the cyber dojo: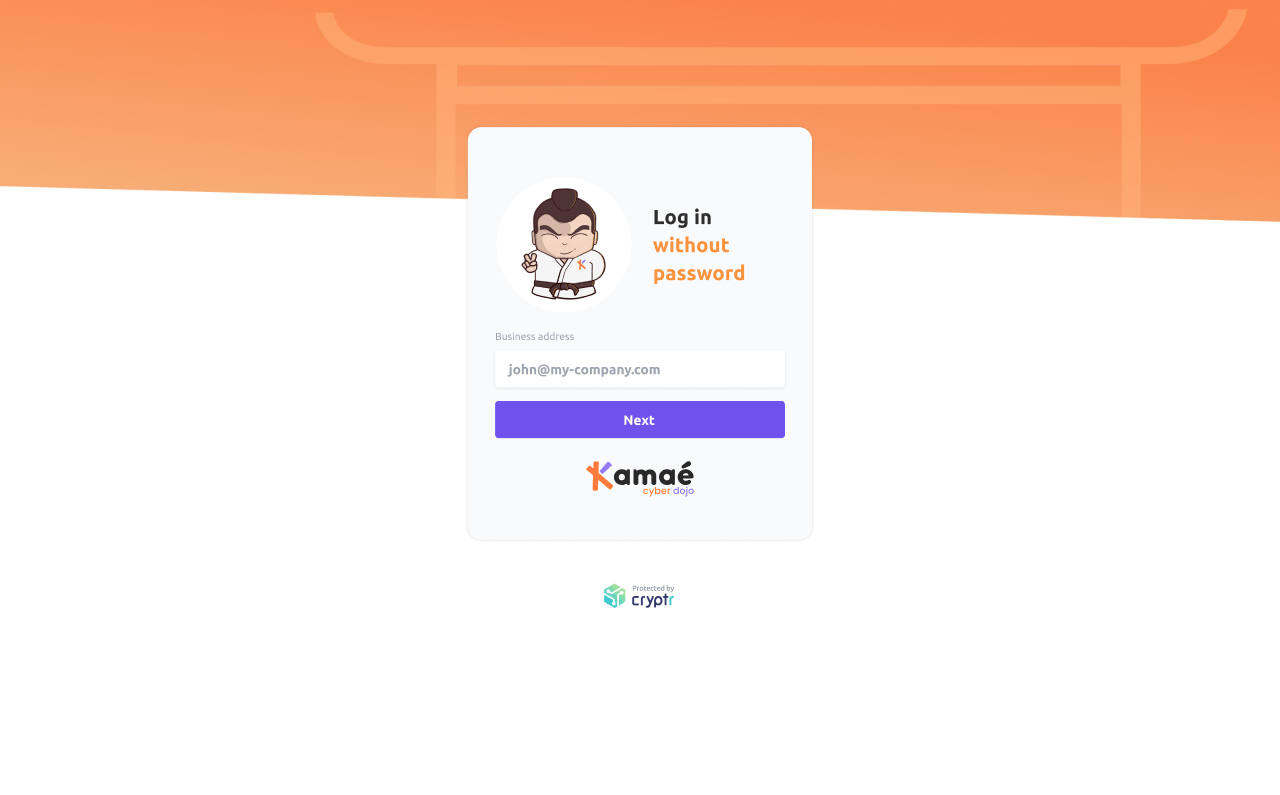 Looking for a partner to cope with strong growth
In the context of cyber attacks that we are experiencing, it is not surprising that Kamaé is experiencing strong demand from companies of various sizes to train employees on cyber risks.
Kamaé found himself quickly signing a significant number of clients: startups, SMEs, ETIs and large accounts! And many have an SSO login requirement to start the collaboration.
With a very busy product roadmap, the implementation of a new authentication solution had to be very quick, and it is with this in mind that the entire Cryptr application was built.
With a panel of SDKs covering all technologies on the market, Kamaé was able to quickly integrate our SDK for React in order to test in a sandbox environment.
Thanks to this simplicity of implementation, Kamaé can now offer its prospects to test their solution directly via their SSO system, which positions it as a well-identified trusted partner in the eyes of its clients' IT departments:

—simplification of the management of identifiers and passwords for users
—better user experience through a simplification of the connection process
—reduction of costs linked to maintenance and management costs

SSO authentication also improves security through the use of standard and secure authentication protocols (OIDC, SAML) and thus reduces the chances of hacking linked to the use of an insecure password.

Cryptr, a long-term partner
With its technical and commercial teams, Cryptr is always available to support its customers 100% in order to carry out an audit of the existing situation and provide them with the technical response best suited to their integration challenges.
To ensure that each collaboration is fruitful, Cryptr customers are invited to the cryptr_community Slack where a dedicated and private channel is set up for each of them.

This communication channel allows technical teams to easily communicate with each other and has enabled Yoann, CTO of Kamaé, and his team to quickly have answers to their various questions related to authentication.

With a few lines of code and the support of the Cryptr team, Kamaé was able in a few hours to become "SSO ready" for its key account customers, and also offer magic-link connection allowing simple and fluid authentication. Without creating a password for its customers who wish it.
Saving time for Kamaé's key account customers
One of the key features of Cryptr lies in the simplicity of onboarding new major account customers in SSO thanks to an interactive interface integrating a step-by-step process specifically designed for the IT departments of major accounts.
Thanks to this "self-service onboarding," the IT departments of Kamaé clients can configure the connection of their SSO system in less than 5 minutes thanks to an intuitive interface indicating all the actions to be taken to make the connection effective.
This step-by-step allows Kamaé's technical teams to focus on building the product rather than spending time with its customers' technical teams to configure SSO authentication.
Kamaé teams simply send an email including an onboarding URL which allows their clients' IT Admin to be autonomous in setting up the SSO configuration: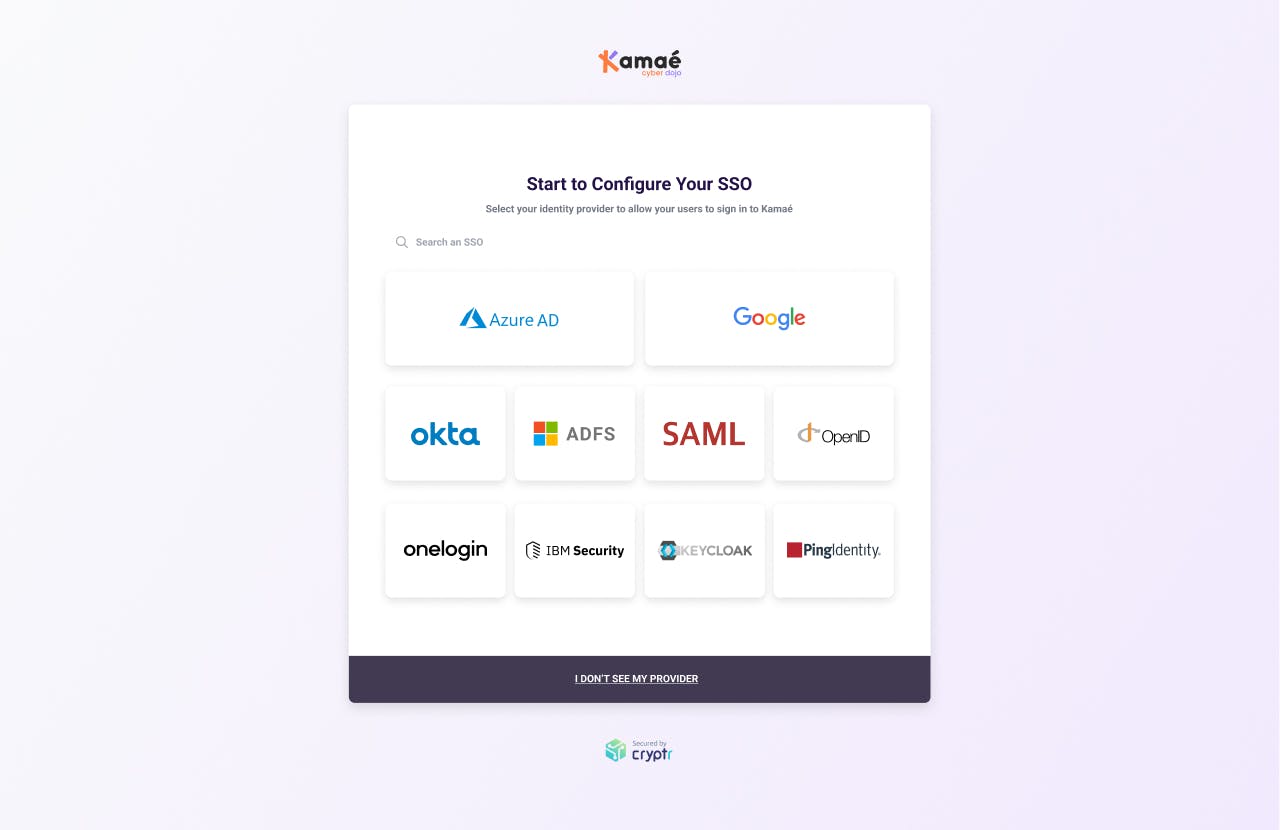 The most suitable B2B authentication for SaaS
Beyond SSO and passwordless authentication using magic links, Cryptr offers a complete suite of products dedicated to authentication aimed at simplifying the life cycle of users of SaaS solutions: social logins, double authentication (2FA), connection login/password with stolen password detection, but also directory synchronization via the Cryptr Directory Sync product.
Thanks to Directory Sync, the manual addition and deletion of users within SaaS solutions or via CSV or Excel file uploads are now a practice that belongs to the past: via the SCIM protocol, Directory Sync automates the provisioning and deprovisioning of users, automatically updates user attributes in the event of a change (last name, telephone number, position, geographical area, hierarchical position, etc.).
This solution allows you to be 100% sure that all people who need to access the SaaS have access to it and to have a number of licenses that are permanently up to date.
Kamaé's solutions are aimed at all employees within a company, from now on, when one of Kamaé's clients carries out one or more recruitments, as soon as these new recruits are added to the identity manager of the Kamaé customer, the account is automatically created on Kamaé and the employee can carry out their cyber risk awareness sessions.
By sending webhooks, Kamaé is notified in real time of the addition, deletion or modification of users for each of its clients, in the blink of an eye.
More than a simple professional collaboration, it is a true long-term partnership that has been forged between Kamaé and Cryptr.
Thanks to the latter, the Kamaé teams know that they can count on the support of Cryptr to achieve their great ambitions.
For more information about Cryptr and the authentication solutions we offer, please visit our website or book a meeting with us.
And don't forget to follow us on our various social networks: LinkedIn, YouTube, Twitter, Instagram.